Brand Guides: What Are They and Why You Need One
So, you just finished refreshing your logo. Congratulations! I bet you can't wait to finally share your new look with the world. But before you do, have you thought about what can happen once your logo leaves the office? Just because the file you have saved is set up perfectly, doesn't mean that it can't and won't be adjusted by someone else. From colors to sizes and everything in between, once your logo leaves your hands, it can be manipulated in a number of ways. That's why it's important to go one step further and create a brand guide.
What is a brand guide?
According to
MasterClass
, a brand guide, also called a brand book, is "a document that details a company's visual identity, along with rules and guidelines for any public-facing communication."
Why do you need one?
1. To Create Consistency
The main purpose of a brand guide is to keep not only your logo but your entire brand consistent both internally and externally. Consistency helps to drive brand recognition. The more consistent your branding is, the more likely people are to remember who you are and build a connection with your business.
For example, if you have several different logo variations out in the world, all manipulated and adjusted with different colors and sizes, how are people to know that all those logos tie back to the same company? They may think that they are looking at two, maybe three, different businesses. However, if the colors are the same, and the logo is the same, and everything is consistent across all forms of media, then it'll be clear that those logos all represent one business.
2. To Ensure Brand Quality
When you focus on creating consistency, you're also ensuring brand quality. The rules that you set help to guarantee that your brand looks clean, polished, and professional in every scenario.
3. To Deter Unwanted Design Modifications
By creating a brand guide, you are telling the world this is what you can and can't do with our brand. It informs people that they can't randomly add a drop shadow to your logo or throw in a color just because they like it or think it would work well. When you hand out your brand guide, you are providing a road map for them. This comes in handy, especially when working with external agencies and vendors who may be working to mock up signage and other marketing materials on behalf of your business.
What all goes into a brand guide?
Brand guides vary from business to business. Some simply cover the basics, while others expand to give their audiences the full picture of who they are, their values, and how they want to be represented.
Below are just a few of the rules that can be included within one of these documents:
Logo Usage
Probably the most important section of your brand guide addresses logo usage. Some things to include within this section are:
logo variations and icons
logo colors and how they should be applied to different backgrounds
logo font(s)
size (minimum recommendation)


You may also feel the need to include a section that shows how NOT to use your logo.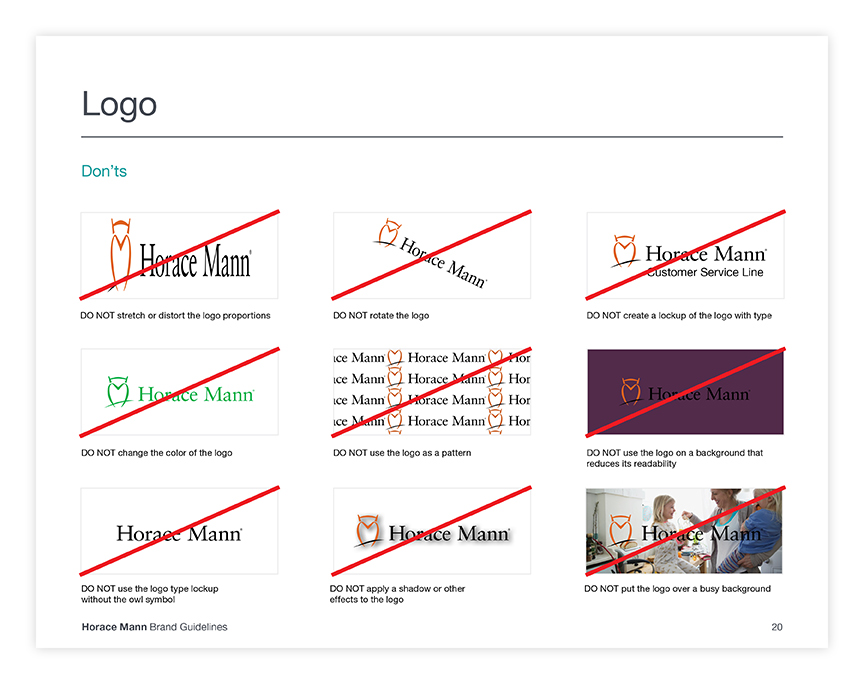 Fonts
This section of a brand guide details the approved fonts that go along with your logo and overall brand. It's here that you can specify where a specific font can be used and under what circumstances.
For example, the Systemax brand utilizes both Open Sans and Shrikhand as its fonts. Shrikhand is meant to add a bit of fun and pizazz to our designs. As described in our brand guide (see below), this particular font "should be used sparingly and with restraint". It is meant more so for headlines and not for full bodies of text. By detailing this, we can avoid the overuse of this font and the possibility of creating overwhelming designs.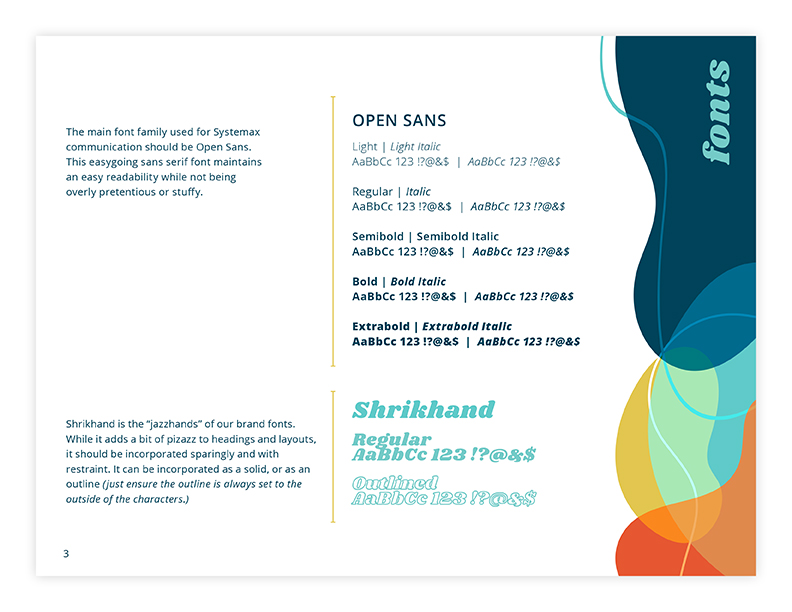 It's also a great idea to include an alternative font section. Many fonts are not easily accessible and often require you to purchase a license in order to use them. In order to guarantee that everything stays consistent with your brand, it's best to choose an alternative font that is more readily available.
For Systemax, we chose to use Calibri as our alternative font. It is often used for email and other digital applications.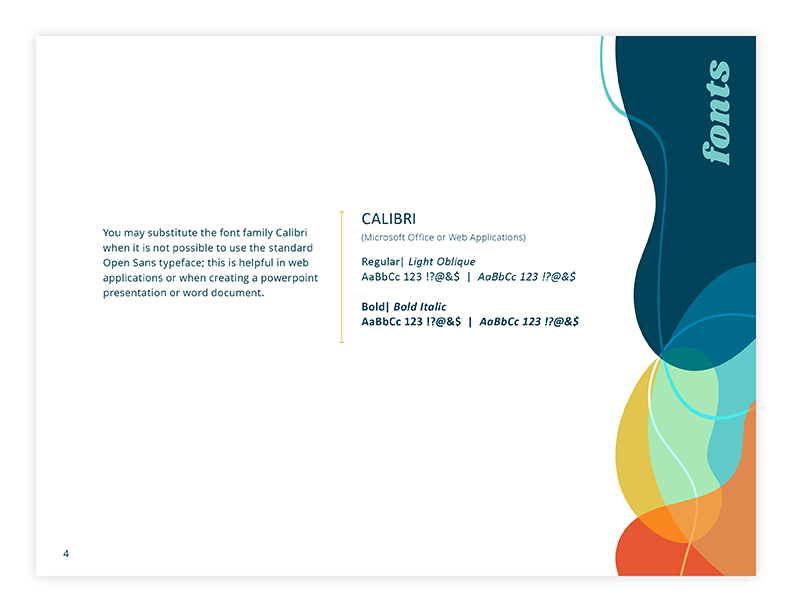 Colors
Color can play a huge role in a brand. How so? Well, according to
CEO Today
, in a Reboot survey of 2,648 consumers, 67% were able to identify Ikea, the Swedish furniture retailer, simply by the depiction of their colors. This is why it is so important to include your brand colors within your guide. By staying consistent with your colors, you again work to build brand recognition.
So, what should you include in this section?
Primary and secondary colors
Each color should then be broken out into:
PMS Colors (Pantone Matching System)
CMYK values (4-color printing)
RGB values (web and other digital applications)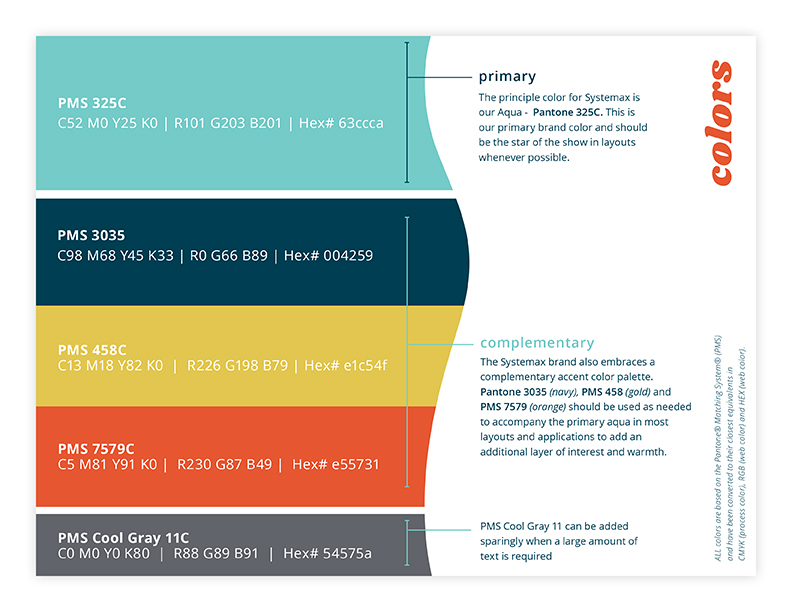 For more information about these color values and their differences,
click here
.
Additional Sections
Some other items you can include within your brand guide are:
History
Mission & Values
Voice & Tone
Photo Guidelines
Apparel Guidelines
Icons & Other Graphics
When it comes to your brand, it's important to inform others of its various elements and how they should be used under varying circumstances. You and your team are not the only ones who will touch your brand so by going a step further and creating a brand guide, you are ensuring its integrity and the hard work you've put into creating it.
Interested in putting together a brand guide for your business? Let us know! Whether you recently went through a rebrand or would like to add a bit more structure to your current brand, we'd be happy to help!
Hello! My name is Kaitlyn and I am one of the Graphic Designers here at Systemax. Every day, I work hand in hand with our team to develop designs that not only look great, but meet our client's needs and help push them toward their goals. Outside of work, you can find me with my family and friends, scrolling the web for new design tricks and inspiration, or messing around with my camera.