It's True: TikTok is the New Google for Gen Z
Recently, I came across
this article from the New York Times
that said Gen Z's new search engine is TikTok. This made me realize that my Gen Z self actually holds this statement to be 100% accurate.
It's actually ironic that I'm diving into this article from the New York Times. Every time I share a tidbit I learned from TikTok, I joke that it's from the New York Times. After all, who is going to admit they saw something on a "dancing app" and believed it?
Let's talk more about TikTok being the new and improved Google and how your brand can take advantage of this new phenomenon.
It's True
Let me set something straight here: TikTok is NOT just an app for dancing. I use TikTok as my place for research, entertainment, and inspiration. I find things ranging from good happy hour spots to tips on crate training a puppy (shoutout to my boy Scooter).
The expectation is that Google has a hold on these kinds of searches. However, Gen Z prioritizes engaging with authentic content. It's easier to get information through a minute-long video instead of reading an article.
Why do I use TikTok for essentially everything? It's easier to get information through a minute-long video instead of reading an article. I would rather see a real person giving a real opinion than a faceless website.
There are a few reasons that explain TikTok's newfound success in the search engine game.
How Has TikTok Become a Successful Search Engine?
It's easy to use.
We know it all too well… you're trying to find a recipe for pumpkin bread and Google gives you 1289712 options. After finally finding the right one, you have a read a blogger's life story before actually getting to the recipe itself.
Instead of this exhausting process, TikTok allows users to find a relevant video immediately and easily.
It's visual.
I can't say it enough… visual content is key – especially with younger audiences. Fun fonts, graphics, and video clips are easier to digest. Google doesn't hit the mark on this often, which is a deterrent to Gen Z.
It knows what the demographic wants.
Let's make an example out of this one. If a Gen Z-er is going on vacation to Charleston, South Carolina for the first time, they're going to land on Google pages that don't give quite the fun-fresh ideas that they're looking for. Google may suggest visiting Fort Sumter or the Pineapple Fountain. although they are tourist spots, it's not the "local" recommendations one would be searching for. TikTok comes from regular people instead of businesses sharing what an experience could be through rose-tinted glasses.
It's short-form video content.
Gen Z doesn't have the time or patience to sit through long-form videos these days. TikTok keeps the search process short and sweet compared to a long, drawn-out active thought when it comes to approaching Google.
What Should Brands Do?
If your target audience is Gen Z or Millenials, it's time to hit a fast sprint over to TikTok to make an account. This is where the kids are hanging out these days, and you should capitalize on it!
From there, it's time to start creating.
Your company should act like a consumer, not a brand.
It's critical for brands to humanize themselves. TikTok was created with the consumer in mind, not just a space for brands to build. Companies must have the right voice. Gen Z doesn't want to be sold to. They want to have a genuine connection with what they're viewing.
While developing your TikTok strategy, don't forget to keep SEO in mind. It may sound odd to consider SEO in social media, but the numbers don't lie. Optimize your content. Product discovery is rising in TikTok, which means you need to make sure you're visible to those who are searching for you.
There you have it!
Google isn't going anywhere, but TikTok has jumped into the search engine pool! Brands: be flexible, authentic, and stay on top of trends to get some skin in the Gen Z game. Now's the time to get in and establish a presence!
Need a hand with your TikTok strategy? Our team is here to help!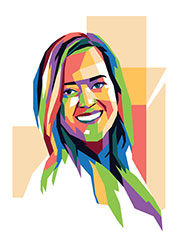 Author Info
Hello hello! My name is Renee Rude and I am the Content Specialist here at Systemax. 
I work closely with the team to facilitate content creation for clients that align with their overall marketing plan and business objectives. From social media to copywriting to graphic design, I'm here to help clients reach their goals! Outside of the office, you can find me working out or trying to plot when I'm going to the Jonas Brothers next on tour. (I've been a fan since I was 8 years old and am proud of it😉)