So Let's Talk About Canva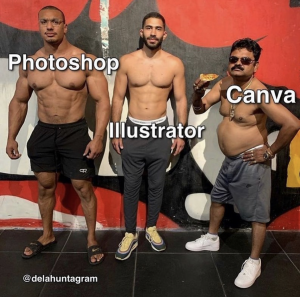 You may have heard something running around marketing/communications circles about this fancy little program called Canva. Offering a smorgasbord of features and templates, this free (or minimal cost for a premium subscription) web-based graphic design program touts a super easy drag & drop interface and huge asset library making it simple and easy to create everything from social media graphics to business cards and flyers.
This is fantastic news for those in roles where they are asked to produce marketing or design deliverables for their business, but they don't have the working knowledge or the budget for more robust software such as the more traditional Adobe Creative suite. For the casual user, Canva enables you to create marketing collateral that look nice and well-designed even if you have zero graphic design experience. Sound too good to be true? Well, while Canva is a great platform and really fits the bill for many in-house marketing demands, it definitely has things it does well, and things that, well, maybe not so much.
Below is a list of the best (and worst) things to use Canva for so you can know when it will fit your needs, or when it is time to go ahead and hire a professional.
The Good
Canva is good at being budget-friendly.
It's true. Canva is WAAAYYY less expensive than other options out there. Even if you want all the bells and whistles and spring for the "Pro" subscription, it is only $9.99 per month as opposed to $39.99+ and up for other standard design programs like Adobe Photoshop or Illustrator.
Canva is good for basic design for people who want to use pre-made assets
Features pre-made templates that have been created by professionals, so all you have to do is find one that works for your content, plop it in, and go!
Canva is good for working on the go.
Since Canva is a web-based program, you can work on your designs from anywhere you have the interwebs. All your work is stored in your account. You can even collaborate with others on your team who have an account as well.
The Bad
Canva is bad at replacing a good graphic designer.
No, I am not saying this out of bias, there are just things that really require a professional touch. Even though Canva provides options to create brand collateral like logos, business cards, letterheads, proposals, and brochures – don't do it. Your logo and business cards are often the first things that a potential client sees, and assets like these really should be put together with the help of a professional designer and/or marketing team. There's a lot of thought put into crafting a brand, it's not a one-size-fits all situation
Canva is bad for designing logos
Canva isn't a vector-based program, so you cannot create an image or design that will be editable or scalable to any size, beyond what it's already set at without losing resolution/quality. It is really crucial that your logo is always and originally created in a vector file format. If you want to learn more about what that means, check out this info
here
.
Canva is bad at formatting for print production
If you are wanting anything printed for more than just casual, at-home use, Canva is not the program for you. There are a lot of "behind the curtain" type of things that trained graphic designers know to prepare for when setting things up for print. Things like resolution, bleeds, color settings… trying to use Canva to set up artwork for actual print is like trying to use a microwave to cook a turkey at Thanksgiving.
Canva is bad at individuality
Since you are choosing from a library of templated objects that are available to literally anyone and everyone,  odds are you won't be the only one using it, so your designs might get overlooked easily or mistaken for someone else's.
At the end of the day, Canva simply gives anyone the ability to create simple, nice-looking, professional-looking graphics designs in minutes, no matter their skill level or budget, and can be a valuable asset to smaller businesses or individuals alike. Designers and Canva CAN coexist peacefully.  The important thing to know and understand is when it fits into the scope to use Canva, and when it's time to bring in the big guns.
Hey there! I am Jeniffer Stump and I am the Art Director here at Systemax. I help lead our team of creatives and work to cultivate and develop innovative design solutions so all of our clients' advertising and marketing dreams can come true. When I am not at this desk, you can find me with my family (more like driving my kids somewhere) or creating on my sewing machine.