What is a Persona?
You may have heard the word PERSONA thrown around in the marketing world and you may be asking yourself, "What are they talking about?"  Are they talking about a new dating app, a new cosmetic line, or maybe the newest Hollywood heartthrob 😊 I wish!!  Personas are a way for marketers to provide a real-life representation of your users.
Persona development is one of my all-time favorite activities to work through with clients.  I love getting to sit down with clients and work through their current clients and prospects and come up with these "characters" I will call them, to help guide who is the ideal customer you want to attract to your product or service through your marketing efforts.
So, what really is a persona?
A persona is a semi-fictional representation of your current (or ideal) users based on market research and real data about your existing customers. Personas can be created by talking to users and segmenting them by various behavior, demographic data, and psychological characteristics and traits, such as values, desires, goals, interests, and lifestyle choices.
Benefits of Personas
Creating personas will help you to understand your users' needs, experiences, behaviors, and goals.
Creating personas can help you to recognize that different people have different needs and expectations, and it can also help you to identify with the user you're marketing to.
Personas make the marketing process less complex, they guide your marketing processes, and they can help you to achieve the goal of creating a good user experience for your target user group.
Personas are extremely useful to grow and improve a business; they help uncover the different ways people search for, buy, and use products, so you can focus your efforts on improving the experience for real people and use cases.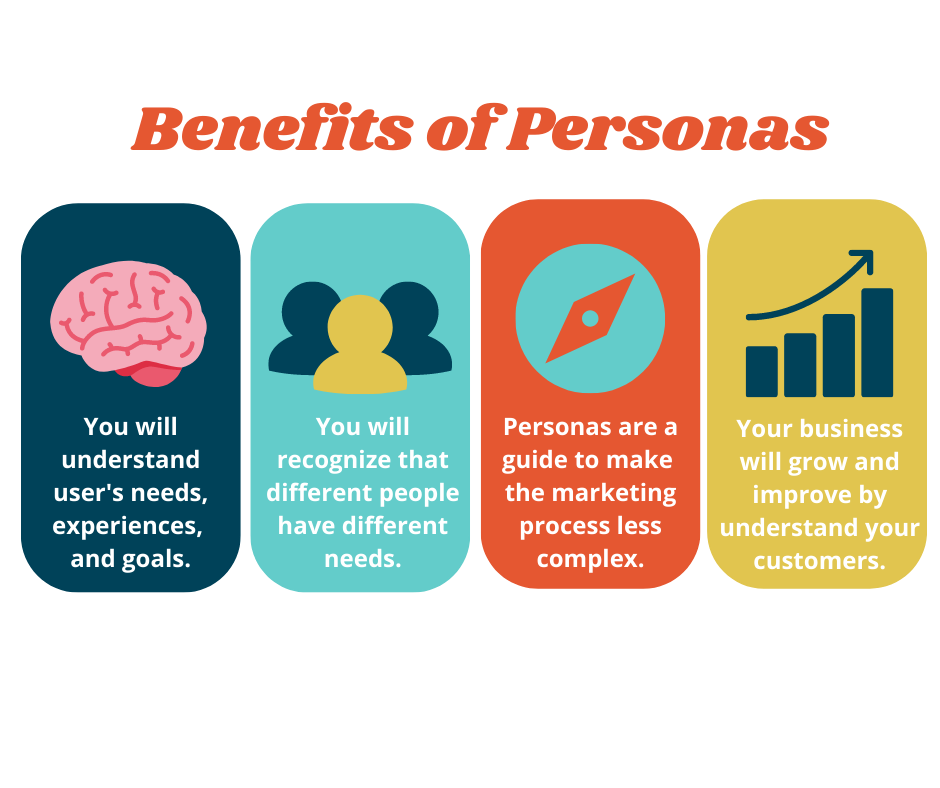 Creating Effective Personas
Personas are more than "people". Personas are distilled essences of real users. In marketing and design, you use personas to build empathy with target users and focus on their world. You should always create personas from observations about real users, personas should never be invented out of your assumptions about your users. Because you must map your users' needs to your marketing's functionality, you must first clearly define both the needs and the users.
To create effective personas, I suggest:
Collecting data on current target users. Utilize a customer survey to gather data.
Creating personas with your internal team:

   
Determine the qualities of and differences between users 
Determine a number of personas

Who is your ultimate target user?
Who would you like as a user?
Who is your #1/most profitable user?

Name and describe each persona, including:

A picture
User's values, interests, education, lifestyle, needs, attitudes, desires, limitations, goals, and behavior patterns.
Extra details about the persona (interests, family, etc.) anything to make him/her more real and relevant and help build empathy.  A written story is better than bullet points.

Describe several situations/scenarios prompting the persona to use your product.  Put him/her in contexts with problems to  overcome. These should expose the persona optimally to potential use cases. 

Quit playing games and actually talk to your customers! 
Find out straight from your current customers what their needs and wants are.

Conduct an online survey of 7-10 open-ended questions on behavioral drivers, purchasing obstacles, and shopping mindsets.
Talk to your existing customers one-on-one about their buying habits, motivations, and how they discuss your products and services.
Remember to say thank you to the customers that help you out by offering them something nice!
I hope this helps you get a jump start on the development of your personas.  Make sure you make it a fun activity and involve multiple team members to get the best overall image of your personas.
Need a hand developing personas?  We can help!
Visit
here
to contact us.
Author Info
Hello! My name is Hanna O'Brien and I am one of the Strategic Marketing Directors here at Systemax. I work hand in hand with clients creating strategies for growth, brand awareness, customer retention, etc.; ultimately with a goal in mind of increasing their revenue. I have spent the last 20 years in the marketing and advertising industry. Outside of work, you can catch me coaching my 3 girls in basketball and enjoying time with family & friends.